Instrumentation - SO2 Concentration
August 21, 2001
---
SO2 concentration measurements are often done in a number of locations throughout an acid plant.
The most common SO2 measurement is in the stack allowing the plant operator to stay within emission the permitted limits. The SO2 concentration can range from 0 to 250 ppm SO2 for double absorption plants to as high as 0 to 3000 ppm SO2 in single absorption plants.
SO2 measurements may also be done at the inlet of a gas cleaning system. This measurement tells the acid plant operator the gas strength that is coming from the metallurgical operation.
Another common location for SO2 measurements is at the blower discharge in metallurgical or regeneration acid plants. After gas cleaning, the SO2 concentration is unknown as well as the O2:SO2 ratio. Air dilution may be required to achieve the desired conversion in the converter. On-line continuous measurement of SO2 and O2 may be required to control the amount of dilution air being added to the process.
Principle of Operation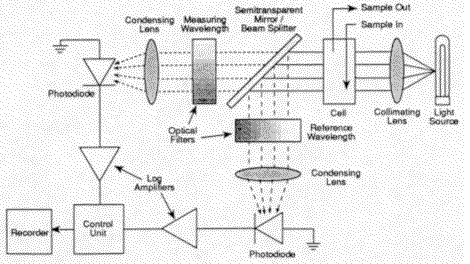 Ultraviolet Light Absorption - This technique is based on the differential absorption of UV-visible light by the sample stream at two different wavelengths. Radiation from a selected light source passes through the sample and into the photometer, where a semi-transparent mirror splits it into two beams. The measuring beam passes through an optical filter which excludes all wavelengths except one absorbed strongly by the sample constituent under analysis. The reference beam is filtered to a wavelength which the sample absorbs weakly or not at all. Each beam then falls on a photodiode which converts the light signal to an electrical current proportional to the light intensity of the beam.
A logarithmic amplifier, in turn, provides a voltage proportional to the negative logarithm of the photodiode currents. The differential of the amplifier outputs provides a single output linearly proportional to the concentration of the measured constituent in the sample, in accordance with Beer's law. The split-beam technique is inherently accurate and interference-free because the wavelengths are examined simultaneously. Adverse sample conditions, such as particle matter turbidity and fluctuations in light intensity, produce an equal effect on the intensity of the energy at both wavelengths and, therefore, cancel out.
An instrument that draws a gas sample from the main process stream is preferred over an in-line instrument because of the problem of maintaining the instrument. If the instrument is in-line it often cannot be removed during operation for maintenance, calibration or repair without a complete plant shutdown.
The experience at one plant with an SO2 analyzer installed at the discharge of the blower was that the vibration from the blower caused the reflecting mirror at the opposite side of the duct to go out of alignment such that the instrument failed to operate properly.
Manufacturer
Type
Range
Model No.
Remarks
Lear Siegler
Optical Spectroscopy (Light Absorption)
SM8100
Vibration free installation required
Rosemount
Ultraviolet Light Absorption
0-30 ppm
Autoranging up to 2000 ppm
ETL 9100
Quartz halogen source
No moving parts
Rosemount
UV 'Transflectance'
0-50 ppm
0-5000 ppm
Model 890
Pulsed UV Lamp
Operating Temp: 0 to 40°C
Power: 350 W
SICK
Light Absorption
GM 21
SICK
Light Absorption
GM 30
AMETEK
Ultraviolet Light Absorption
SO2: 0-100 ppm
O2: 2-25% wet
4600
Meets all known EPA requirements
Sample Flow: 5 SCF/h
Instr. Air: 2 SCFM field unit
2 SCFM probe
Electrical: 2 kVa
Sample taken to analyzer
AMETEK
SO2: 0-500 ppm
NOx: 0-200 ppm
PDA-6010
Instr. Air: 35 SCF/h (60-100 psig)
Electrical : 2 kVa
Sample taken to analyzer