Materials of Construction - Metallizing
January 17, 2003
---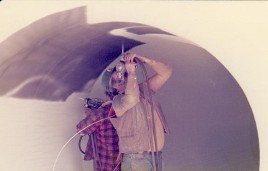 Worker metallizing the inside surface of duct
In the simplest terms possible, thermal spray coating involves heating a material, in powder or wire form, to a molten or semi-molten state. The material is propelled using a stream of gas or compressed air to deposit it, creating a surface structure on a given substrate. The coating material may consist of a single element, but is often an alloy or composite with unique physical properties that are only achievable through the thermal spray process.

Generally speaking, thermal coatings are a highly cost-effective way to add superior performance qualities to a given substrate. The variations on this technical theme are virtually limitless. Coatings can be metallic, ceramic, plastic, or any combination desired to meet a broad range of physical criteria.

The coating materials can be applied using several different processes. Thermal coating methods utilize fuel combustion, plasma spray and electric arc delivery systems. Coatings can be applied under standard atmospheric conditions or in specialized, highly controlled atmospheric environments - even under water! Coatings can be applied manually or with the automated precision of software-driven robotics.
The metallizing process is employed in sulphuric acid plants in areas where carbon steel is exposed to high temperature and oxidizing conditions that would cause it to scale. The formation of scale results in metal losses and blockages of tubes in heat exchangers or catalyst beds. If used, metallizing is recommended on process equipment and ducting where temperatures exceed 371°C (700°F) in the presence of O2, SO2 and SO3. The metal applied to carbon steel is aluminum and is applied is 4 step process.
1. Sand blasting the surface
2. Sprasteel Flash Bond Coat
3. Metallized Aluminum Coat (99.0% Al)
4. Silicon Aluminum Sealer
The base material will generally be carbon steel in the 'mill descaled' condition. The metal should be free of rust, paint, oil, etc. Sand blasting, flame cleaning torches, and/or solvent should be used to achieve a clean surface. A bonding coat is then applied to the surface using a suitable wire type metallizing gun. The bonding coat must be applied soon after the surface is sand blasted (within 2 hours).
The aluminum coating is then applied using a suitable wire metallizing gun with acetylene and oxygen as the fuel. The aluminum coating is generally applied to a thickness of 0.25-0.31 mm (10-12 mils). A small amount of the aluminum is oxidized during the spraying process which helps the aluminum adhere to the steel surface.
The applied aluminum coating is porous and would allow the underlying steel to rust if the pores are not fill. Therefore, the final step is the application of silicone aluminum paint by brushing or spraying it on. Two coats are generally required.
Failures of the coating occur when there is a lost of adhesion between the coating and the steel surface. The most common mode of failure is oxidation of the steel caused by pinholes, poor surface preparation, mechanical damage to the coating, thermal shock, contamination of the steel, or permeation.
It is unlikely that the coating will be damaged by high temperatures. Aluminum melts at 660°C (1220°F) which is well above the normal maximum operating temperature in a contact section of an acid plant.
Sulzer Canada Inc.
Sulzer Metco Division
7956 Torbram Rd. Unit #9C
Brampton
Ontario L6T 5A2
Canada

Tel: +1 905 458 1333
Fax: +1 905 458 1611
Sulzer Metco (US) Inc.
1101 Prospect Avenue
Westbury, New York 11590-0201
U.S.A.

Tel: +1 888 COAT 544
Fax: +1 516 338 2414