Metallugical Processes - Lead
September 5, 2003
| | |
| --- | --- |
| Introduction | Associated Links |
---
Introduction
The production of lead by direct smelting of lead concentrates is hampered by the fact that under equilibrium conditions a low-sulphur bullion and a low-lead slag are mutually exclusive.
Sintering Machine
An updraft sintering machine consists of pallets which are joined together to form a continuous belt. Each pallet is packed with grate bars which are shaped to to leave a gap between them along their length. This enables the pallets to support and carry the sized feed while permitting air to be blown through the bed. A typical sintering machine consists of 97 pallets measuring 0.91 x 2.44 metres wide resulting in a continuous belt 47 metres in length.
The feed material is conveyed to a splitter which spearates the feed in to the ignition and main feed layers. Shuttle conveyors distribute the feed across the width of the machine. The ignition layer is less than 4 cm deep and is placed on the moving pallets first. The pallet passes under burners while travelling through the downdraft section of the sintering machine. The downdraft draws the flame into the ignition layer
The sinter plant process remain the dominant process for the production of lead. In the 1980's, this process accounted for 80% of all lead smelted in the western world. There has been considerable pressure however to adopt direct lead smelting process to minimize emissions and concentrations of lead in the environment.
Kivcet
The first Kivcet smelter was constructed in Portovesme, Sardinia in 1987 based on technology developed in the former Soviet Union. The Kivcet unit for Tek Cominco in Trail, British Columbia, Canada is the most recent smelter to be built using this technology.
Outokumpu Flash Smelting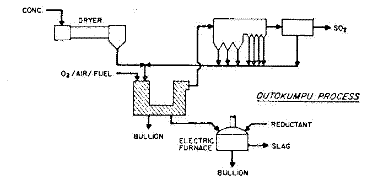 Boiliden Kaldo (TBRC)