Sulphuric Acid Plant Safety - Vanadium Pentoxide Catalyst
Februrary 26, 2002
---
Introduction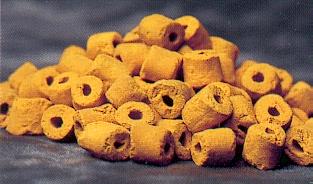 Typical vanadaium pentoxide catalyst contain the following substances:
Diatomaceous Earth (Amorphous Silica)
Crystalline Silica
Quartz
Vanadium Salts
Sodium Salts
Potassium Salts
Causes eye, skin and respiratory tract irritation

Repeated and prolonged inhalation can cause delayed lung damage

Suspected cancer hazard

Contains quartz which may cause cancer
Precautionary Measures When Handling
Avoid contact with eyes, skin and clothing

Avoid breathing dust

Keep containers closed

Use with adequate ventilation

Wash thoroughly after handling
Eye Contact
Immediately flush with lots of water for at least 15 minutes.

Obtain medical attention immediately.
Skin Contact
Immediately flush with lots of water.

Remove contaminated clothing.

Obtain medial attention immediately.

Used clothing should be disposed of properly or washed before reusing.
Inhalation
Remove to fresh air.

If not breathing give artifical respiration.

Give oxygen if breathing is difficult.

Obtain medical attention immediately.
Spill or Leak
Shovel the bulk of the material into a steel drum.

Sweep up the remaining material.

Wash down the area of the spill.

Wash water should be contained and disposed of properly.
Eye Protection
Wear chemical goggles and have an eye wash station available.
Skin Protection
Wear chemical resistant gloves and clothing to protect exposed skin.

Disposable clothing is preferable to cleaning and reusing clothing.
Respiratory Protection
Avoid breathing dust.

Use NIOSH/MSHA approved respiratory protection equipment.
Ventilation
Provide natural or mechanical ventilation to control exposure levels.
Waste or used catalyst should be disposed of in an approved chemical landfill in accordance with all applicable local, provincial, state and federal laws and regulations. Metal reclaimers are available to recover vanadium pentoxide V2O5 from waste material.