Steam Systems - Superheaters
September 17, 2001
---
Introduction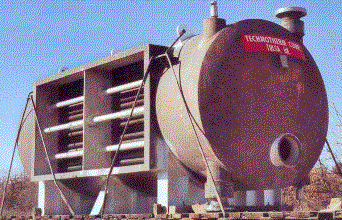 The amount of work that a turbine can extract from saturated steam is limited to about 10-15% moisture in the steam at the exit of the turbine. Superheat is desirable because the heat of superheat is essentially 100% recoverable in a turbine.
Types and Location of Superheaters
In acid plants, superheaters have been designed as stand alone units, integral with a waste heat boiler and as units for installation inside our converters.
The stand alone units are simply rectangular tube bundles contained inside the traditional box or cylindrical shells. The gas must be brought to and from the superheater by ducting. A gas side bypass for temperature control is possible with these units.
Superheaters designed as part of a waste heat boiler are simply tube bundles located in the gas flow. The superheater section will be located near the gas inlet where the gas is hottest. However, the superheater bundle will often be protected by a convection or screen bundle so the tube metal temperature does not exceed the design limits.
Locating the superheater inside the converter has the same advantages as locating our gas/gas heat exchangers inside the converter. The superheater bundle is located in a cylindrical area where the gas flows from the exit of the bed down through the tubes. A gas side bypass for temperature control is possible but is difficult to implement.
Process Gas Temperature Control
When a superheater is located between catalyst beds in the contact section of an acid plant, the temperature of the gas exit the superheater to the next bed must be controlled. When the supeheater is located outside the converter a gas bypass is used to regulate the gas exit temperature. However, when the superheater is located inside the converter, a steam side bypass is used.
Superheated Steam Temperature Control
When a steam system is designed for superheat, the designer should ensure that the steam exit the superheater is superheated about 5.6oC (10oC) higher than the desired superheat temperature. The steam temperature is not controlled using bypasses on the superheaters but by desuperheating equipment.
In cases of high gas temperatures (ie. downstream of a regeneration furnace) plain tubes are used because the added thickness of the fins increases metal temperatures and thermal stresses beyond acceptable limits. Where the temperatures are more 'moderate', finned tubes can be used to enhance heat transfer. This is typical for superheaters within the contact section of the acid plant.