Storage/Loading/Unloading - Storage Tanks - Welds
April 2, 2008
---
The quality of the weld is also very important regardless of which method is used to construct the tank bottom. Welds containing excess slag and porosity and other defects are susceptible to a number of problems that can result in leaks.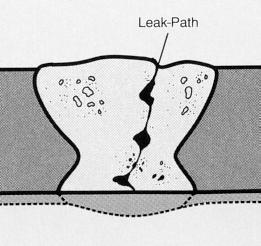 Weld Slag Inclusions and Porosity
As a tank undergoes uniform corrosion, defects in the welds such as slag inclusions and porosity will be exposed. Weld slag will leach out leaving a cavity that becomes a leak path for the acid to penetrate further into the weld. Over time further corrosion of the weld may result in an acid leak.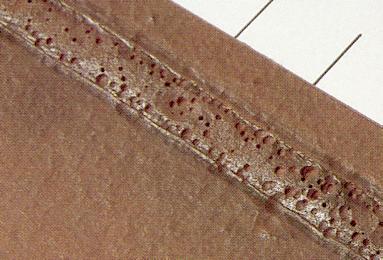 Welds may be subject to severe pitting while the surrounding plate is left virtually untouched. Severe pitting in combination with other weld defects may accelerate the formation of acid leaks.
Galvanic Corrosion

Variation between the weld and plate material can create potential differences that result in galvanic corrosion. If the weld is anodic and the surrounding plate cathodic, the weld will preferentially corrode.

If the opposite occurs, the surrounding plate will corrode faster than the weld. This results in the weld standing above the surrounding plate.
Full penetration welds are required to avoid the formation of crevices between the plates. This is problem with double welded butt joints and fillet welded shell-to-bottom joints. The interior weld will eventually corrode to the point where the crevice is exposed. This will allow acid to enter the crevice and travel to any point along the crevice. The result is the outside weld will begin to corrode earlier than if the crevice did not exist. Any acid leaks may occur some distance from the original point at which the acid penetrated the inner weld making it difficult to find and repair the leak properly. The crevice will only be evident when the inner weld has corroded sufficiently to expose the crevice. At this point only the outside weld is left to hold the plates together.
Cracking of Welds
Cracking of welds are rare but can occur due to the following: