Strong Acid System - Acid Pumps
December 24, 2015
---
Pumps are used to circulate and transfer acid of all concentrations from one piece of equipment to another. In a sulphuric acid plant, two types of pumps are used predominately; Vertical Submerged and Horizontal Centrifugal Pumps.
Submerged Vertical Centrifugal Pumps
Submerged vertical centrifugal pumps for strong acid service have become the standard in the industry for several reasons. The pumps are installed in a closed vessel so any leaks are contained in the vessel and do not pose a hazard to personnel. An additional feature may be that the shaft seal is not in contact with the acid but simply acts as a gas barrier. Tthis feature eliminates the problem of leaks at the shaft seal that is a problem with horizontal centrifugal pumps.
Lewis offers pumps specifically developed for 93 to 99% sulphuric acid and oleum service up to 2000 m³/h (8000 USGPM) capacity and 10 to 50 m (30-165 ft) liquid head. Pumps are available in sizes 2½ through 14 in standard material specifications and lengths to 12 ft. Custom lengths are available on request.
Features of Lewis Pumps are:
LEWMET® nickel-chrome allow used for critical parts which are subject to high velocity, corrosion and abrasion such as impellers, wear rings, journals, and bearings.
Casing and other major parts supplied in Lewis Process Iron with a large corrosion allowance for extended life.
Matching joints incorporate acid proof O-rings and sealed cap-nut bolting to prevent corrosion of vital mechanical components.
One piece Carpenter 20 Cb-3 shafts of premium yield strength, straightened and fitted with PTFE cover for high temperature duty.
All Lewis Pumps feature a shaft seal that is not exposed to the liquid being pumped. A simple stuffing box is sufficient to seal the rotating shaft in tanks that operate at or near atmospheric pressure. For applications where the pump tank is under pressure or vacuum a deeper stuffing box is available with provision for a lantern gland for use with an external sealing medium such as instrument air.
---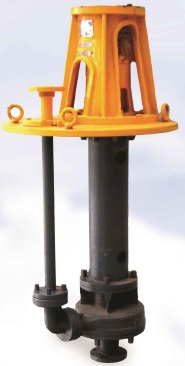 JH Pumps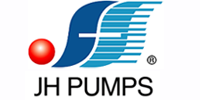 JHB sulphuric acid pumps are designed and manufactured for sulphur chemistry applications. They are submerged vertical centrifugal pumps, which have been provem in the market for years. Capacities are up to 3200 m3/h and 55 m head with a single impeller and 210 m with 2 impellers.
Features of JH Pumps are:
Patented special alloy for wetted parts
Low maintenance
Less power consumption
More reliable performance
Two types of shaft seals that are leak free and easy to maintain
Lower shaft bearing made of high chromium nickel alloy that is lubricated by the pumped fluid
Double support structure at driven end with a double row angular contact ball bearing to balance axial force
Grid coupling that features accurate alignment and vibration absorption
---
Rheinhütte offer vertical submerged centrifugal pumps in capacities up to 1200 m³/h.
The features of the Rheinhütte pump are:
Compact double volute casing to balance out radial loads
Closed impeller
Low flow velocity giving minimal corrosion damage
Shaft column separate from discharge pipe
Modular construction
22 pump sizes with 5 different shaft diameters and thrust bearing lanterns
Materials (1.4136 HRS, Sigub) are available to handle concentrated sulphuric acid (99-99.5%) up to a a temperature of 260°C (500°F).
All wetted shaft sleeves sealed with O-rings, therefore no crevice corrosion
---
Ensival-Moret produce a vertical submerged centrifugal pump for strong acid service with capacities up to 1600 m³/h. The pump differs in design from the other suppliers in that the central column that houses the pump shaft is also used to bring the liquid up and out of the pump.
The features of the Ensival-Moret pump are:
Fully relieved gland packing
Multi-stage construction if required to achieved required head
Fully symmetrical pump casing which enbles the submerged bearings to operate under zero load
Stuffing box protected the bearing in the gaseous pahse against corrosion by acid vapours
Two different arrangements are available which differ in the way the acid exits the central column. Arrangement 2 is shown in the picture.
ARRANGEMENT 1 PUMPS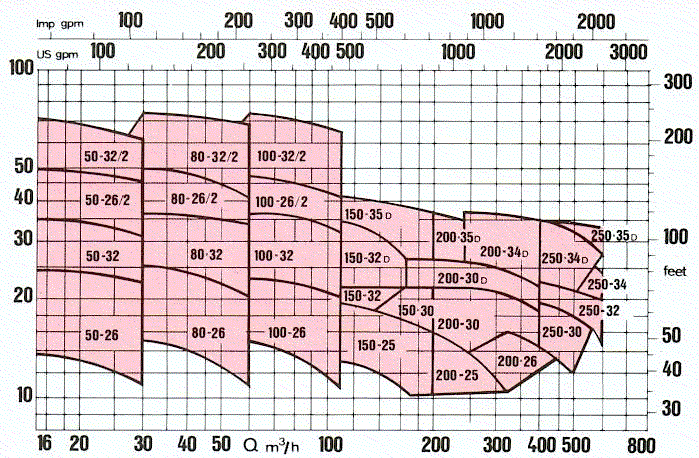 ARRANGEMENT 2 PUMPS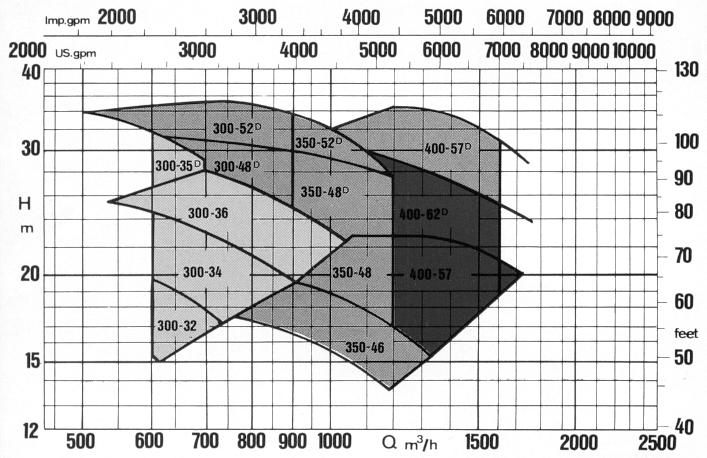 The selection of pumps for sulphuric acid service should always take into consideration the acid concentration, temperature and service. Horizontal centrifugal pumps are rarely used for circulation duty in a sulphuric acid plants. This duty is reserved for the vertical submerged centrifugal pump.
However, horizontal centrifugal pumps are often used for transfer, loading and unloading of concentrated sulphuric acid. The material of construction for the casing and impeller is usually alloy 20. The shaft seal can be either packing or mechanical seal. If packing is used the operator must be aware that some leakage across the seal is required and that there is the potential for more severe leaks and acid spray if the packing should fail.
Weak acid pumps are generally horizontal centrifugal pumps. Plastic materials of construction are generally more suited for this service than metallic pumps. Plastics are resistant to a wide range of concentration and are inexpensive compared to some of the exotic alloys required to handle some acid concentrations. Rubber lined pumps may also be used in weak acid service depending on the fluid being pumped.
To reduce the possibility of a leak at the pump seals, magnetic-drive pumps of suitable materials of construction can be used.
There are many manufacturers and suppliers of horizontal centrifugal pumps suitable for sulphuric acid service. The key is the right selection of materials and specification of the right type of seal.