Strong Acid System - Mist Eliminators - Mesh Pads - ACS Industries
September 23, 2002
---
ACS Industries provides mesh pads in a variety of styles and materials to cover all applications in a sulphuric acid plant. ACS offers the latest innovative designs for mesh pads from the composite-knit (co-knit) pads to the high-capacity Mist-Master® mesh pads.
To aid in the installation of the final sections of a large mesh pad, ACS provide an Adjustable Cross-Section - A.C.S.™ grid which can be compressed by tightening several bolts on the support grid. The compressed pad is inserted and then the bolts are loosened off to allow the pad to expand back to its original size. The A.C.S.™ grid is a unique feature for which a patent has been applied.
ACS produce their own wire and fabricate and assemble the complete pad. They also produce the mesh for other mesh pad suppliers.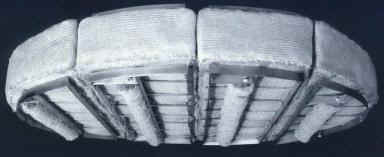 The Mist-Master® mesh pads use a patented technique to enhance the drainage of liquid from the pad thus preventing flooding of the pad and liquid re-entrainment at high vapour and liquid loads. As liquid and vapour loads increase, a layer of collected liquid tends to form at the bottom of the pad. The gas flow through the pad actually impedes drainage of the collected liquid from the pad.
The Mist-Master® mesh pads consist of a conventional pad with tightly rolled cylinders of mesh about 90 mm (3 1/2") in diameter fastened to the bottom of the pad. The 'Coanda' effect steers the liquid in the pad to the tightly rolled mesh cylinders where it can drain more easily from the pad. The liquid surface tension allows streams of liquid falling through the roll to draw liquid from the upper sections of the pad. The result is that region between the rolls becomes relatively free of liquid. The capacity and efficiency of the pad is increased and the pressure drop through the pad is lowered.
The most commonly specified styles of ACS mist eliminators are shown in the following table.
Type
Style

Density
lb/ft³

Wire Diameter
inches
Surface
ft²/ft³
Voidage
%
Metal
7CA
5.0
0.011
5
99.0
5CA
7.0
0.011
65
98.6
4CA
9.0
0.011
85
98.2
4BA
12.0
0.011
115
97.6
3BF
7.2
0.006
120
98.6
3BA
12.0
0.006
200
97.6
Plastic
8P
4.0
0.011
130
92.0
8K
4.0
0.011
160
96.3
8T
4.0
0.011
130
97.0
Metal Based Co-Knit
8D
9
0.0008
615
97.5
8TMW11
12
0.0008
1170
96.2
6BE
9
0.000036
3725
96.3
Plastic Based Co-Knit
8PP
3
0.001
480
94.7
8TT
5
0.0008
1240
91.1
Other varieties are available for special requirements. The standard pad thickness is 100 mm (4 in) and 150 mm (6 in). All styles are available with the Mist-Master® high-performance drainage system.
ACS Industries, Inc.
Separations Technology Division
14211 Industry Road
Houston,Texas
USA 77053
Telephone: (713) 434 0934
Toll Free: 1 800 231 0077
Fax: (713) 433 6201