Strong Acid System - Mist Eliminators - Mesh Pads - Kimre
September 23, 2002
---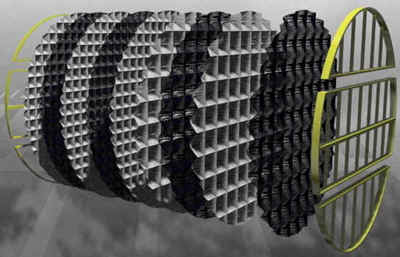 B-GON® Mist Eliminators cause low pressure drop, giving higher throughput at lower energy usage. Kimre technology makes this possible because all B-GON® filaments are engineered to align perpendicular to your gas flow for maximum droplet removal efficiency. This unique interlacing is in sharp contrast to the random orientation of competitive products of knitted mesh. B-GON® mesh combines the best features of knitted mesh and plate type eliminators. The ladder arrangement of the two sets of filaments causes a change in direction of vapor flow which enhances droplet removal by impaction, interception and centrifugal actions. This also produces a cross-flow of captured liquid that flushes particulates from the media.
Composite pads are a unique Kimre feature. Because particle size distribution and flow conditions are subject to unpredictable variations and in-plant data on them are not full or completely known, Kimre has developed composite pads for stagewise droplet removal. These uniquely
designed B-GON® Mist Eliminators have several layers of differing coarseness (see picture below). Heavy loads of solid particulates or liquids can be stopped with coarse styles while less coarse styles eliminate small liquid droplets. B-GON® composite pads are a robust design, less sensitive
to fluctuating operating conditions.
B-GON® is the registered trademark of Kimre, Inc.
The following products are offered by Kimre, Inc.:
| | | |
| --- | --- | --- |
| Style | Removal Efficiency | Comments |
| 8/96 | | |
| 16/96 | | |
| 37/94 | | |
| 37/97 | | |
The best way to evaluate the performance of the B-GON® mist eliminator is to examine a sample mist eliminator design. The mesh styles can be arranged in a number of different ways to achieve the desired performance.
| | | | | | |
| --- | --- | --- | --- | --- | --- |
| | Example 1 | Example 2 | Example 3 | Example 4 | Example 5 |
| 8/96 | - | - | - | - | 10 layers |
| 16/96 | 7 layers | 4 layers | 11 layers | 9 layers | 4 layers |
| 37/94 | - | 1 layer | - | 1 | 5 layers |
| 37/97 | - | 3 layers | - | 3 | - |
| Design Velocity | 500 fpm | 500 fpm | 500 fpm | 500 fpm | 500 fpm |
| Thickness | 4.8" | 7.8" | 6.4" | 9.8" | 8.1" |
| Collection Efficiency | 99.5% 5mm | 99.4% 5mm | 99.0% 3mm | 99.0% 3mm | 99.0% 2mm |
| Pressure Drop | 0.7 in WC | 0.8 in WC | 1.1 in WC | 1.3 in WC | 2.0 in WC |
Kimre, Inc.
P.O. Box 571240
Miami, Florida 33257-1240 USA
Phone: (305) 233-4249
Fax: (305) 233-8687
Email: sales@kimre.com